Are you on the hunt for something fresh and exciting, similar to AdultFriendFinder, but with a twist? You see, while AdultFriendFinder.com is a steadfast online dating service for the adventurous, the unabashed, and the risqué folks out there, it's far from being the only player in this raunchy arena. The world of top hookup sites that work is much larger than one platform.
So, if you're looking for casual, you're in luck! There are plenty of sites like Adult Friend Finder that offer an enriching dating experience. Are you ready to dive into the ocean of sites and apps for adult users, casual hookups, and AdultFriendFinder free alternatives?
Because we're about to get real and show you some of the best hook up sites and apps out there!
Our Top 10 Alternative Sites Like Adult Friend Finder
Let's shake things up a bit and introduce you to our list of top 10 online dating websites like AdultFriendFinder, each with its own unique flavor, that are poised to serve as worthy AdultFriendFinder alternatives.
These are some of the best adult sites for finding a casual relationship or something more. Using their search filters and a robust user base, your chances of finding someone you like are high. Prepare to embark on an enticing journey to find your next casual encounter.
FriendFinder X – Best Alternative to AdultFriendFinder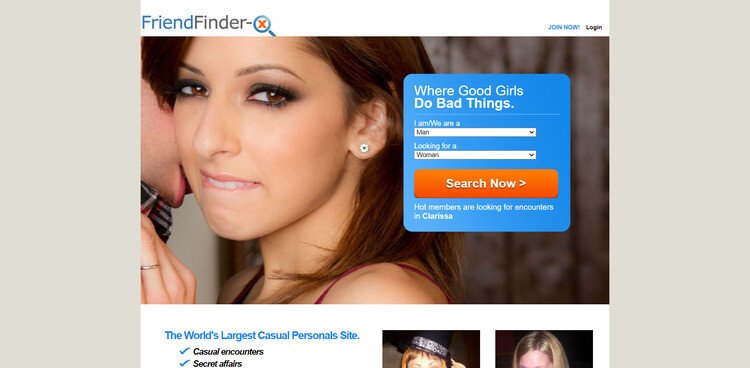 FriendFinderX, is an erotically charged adult dating site, similar to AdultFriendFinder. With its explicit profile photos, webcams, video chats, adult videos, and even a sexual education school, it caters not just to singles, but also couples and groups of any sexual orientation.
Whether you're seeking online or in-person encounters, FriendFinderX makes it simple for members to connect, increasing the chances of finding what you're looking for. FFX is one of the best sites like AdultFriendFinder since it offers a large user base of active members who want to find someone to hook up with.
The Good
Possibility of virtual sexual experiences
Advanced search feature with numerous filters
Quick and easy registration and profile setup
Profile customization options
User-friendly site layout
The Bad
Must pay before communication is possible
Heavy emphasis on webcam usage, may not suit the shy
No personality-based matching algorithm
Additional costs for certain features
Automatic geolocation on page visit
Memberships and Prices
| | | |
| --- | --- | --- |
| 1 Month | 39.95 USD / Month | 39.95 USD |
| 3 Months | 26.95 USD / Month | 80.85 USD |
| 12 Months | 19.95 USD / Month | 239.40 USD |
XMatch – Casual Dating With Horny Singles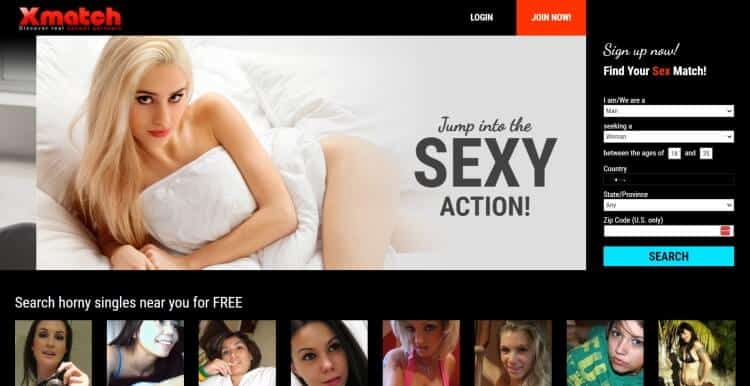 XMatch is your ticket to finding casual dates and erotic escapades online. This online hookup site, like Adult Friend Finder, lets you explore top-notch adult content, including live broadcasts, chatrooms, and steamy erotic tales. With millions members, get ready to mingle with a community of sex-positive, flirty free users who aren't shy about sharing their bodies. Among dating sites for casual encounters, hookups have never been more exciting on XMatch!
The Good
Lots of members
Many features
Open to all preferences
Active user community
Profile verification system
The Bad
No app available
Need to pay for full feature access
Possible fake profiles
Small text on site
Long sign-up process
Memberships and Prices
| | | |
| --- | --- | --- |
| 1 Month | 39.95 USD / Month | 39.95 USD |
| 3 Months | 26.95 USD / Month | 80.85 USD |
| 12 Months | 19.95 USD / Month | 239.40 USD |
SeniorSizzle – Best Hookup Site For Seniors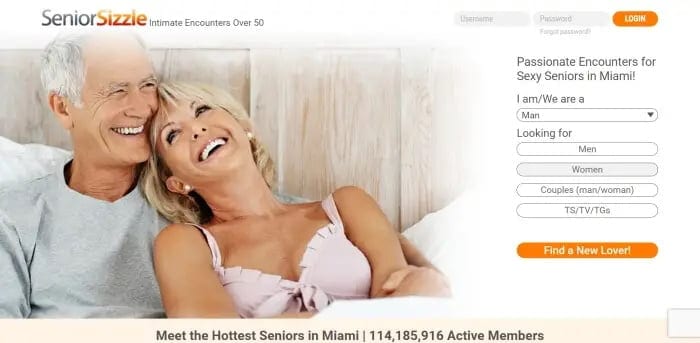 Senior Sizzle is an online dating platform catering to mature singles and couples over 50 years old, looking for companionship and exciting encounters without judgment. The site hosts 150,000 members predominantly from the US and has a male to female ratio of 7:3.
Open to all ages and orientations, it's praised for its inclusivity, robust security measures, and free access to some contact features. Its interface, although seemingly dated, offers a straightforward user experience with personality tests for compatible match-finding. It's a reliable dating service with premium membership promising more perks, with unique features like live cams and chat rooms enhancing user engagement.
The Good
Supports multiple languages
Available globally
Unique features like contests and live chats
Mainly members aged 45 and above
Website is mobile-friendly
Strict action against abuse and hackers
The Bad
No dedicated mobile app
Limited free features
Risk of encountering scammers
No registration through Facebook
Limited search options for free members
Memberships and Prices
| | | |
| --- | --- | --- |
| 1 Month | 27.95 USD / Month | 27.95 USD |
| 3 Months | 19.95 USD / Month | 59.85 USD |
| 12 Months | 14.95 USD / Month | 179.40 USD |
SexFinder – Fling Dating and Sex Chat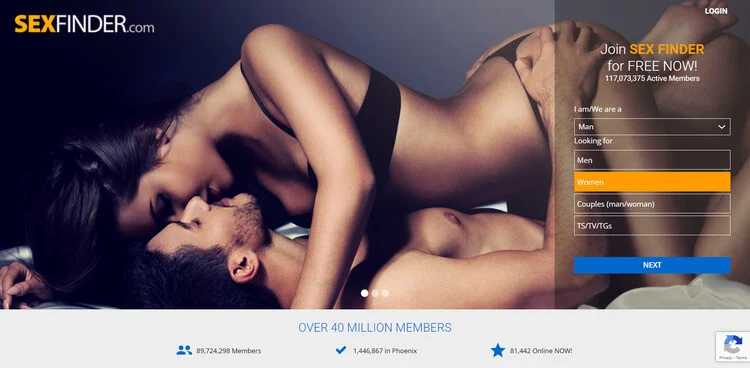 SexFinder, one of the best hookups sites and apps for casual adult dating, with its 40 million U.S. members and around 80,000 active at any time, offers a mature user base mostly aged 25 and up, where men significantly outnumber women. The platform welcomes various sexual orientations and relationship desires. Members can use Personality, Purity, and Kinks tests to refine their search, adding a personalized touch to the exploration.
The Good
User-friendly interface
Multiple ways to communicate
Simple registration
Large number of users
Open-minded members
Various gender and sexual orientations
Professional and trustworthy
The Bad
Expensive subscriptions
Profiles aren't deactivated
Limited features for free users
Memberships and Prices
| | | |
| --- | --- | --- |
| 1 Month | 27.95 USD / Month | 27.95 USD |
| 3 Months | 19.95 USD / Month | 59.85 USD |
| 12 Months | 14.95 USD / Month | 179.40 USD |
Ashley Madison – Discreet Adult Dating Site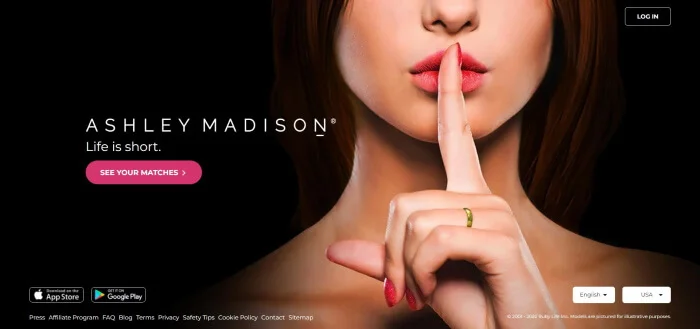 Unleash your wildest fantasies with Ashley Madison, a casual dating app designed for both married and single individuals looking for casual discreet hookups. A veteran with 18 years under its belt, this casual dating portal sets the stage for your ultimate sexual escapade, making it an excellent alternative to AdultFriendFinder. With an emphasis on safety, Ashley Madison facilitates thrilling connections, making every secret desire just a click away.
The Good
Large member count
High privacy standards
Exclusive features like Priority Mail and Message Plus
User-friendly website and app
Welcomes all age groups and orientations
The Bad
Past security breaches
Many features are paid
Possibility of fake profiles
Men have limited free features
Profiles may lack detail
Memberships and Prices
| | | |
| --- | --- | --- |
| 100 Credits | 0.49 USD / Credit | 49.00 USD |
| 500 Credits | 0.30 USD / Credit | 149.00 USD |
| 1,000 Credits | 0.25 USD / Credit | 249.00 USD |
CougarLife – Milf Dating Service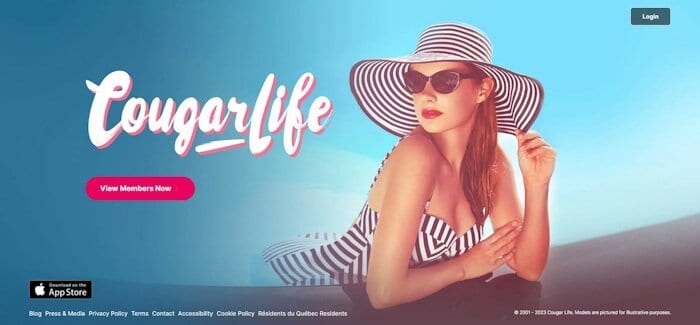 CougarLife is a niche dating platform targeting mature women and younger men interested in hooking up. With nearly 5 million US members and 150,000 active weekly users, it's a bustling platform and one of the best dating and hookup sites for casual encounters. Surprisingly, the site has more male users aged 18 to 34, making up 70% of the user base.
These young men vie for attention from sexually experienced older women, making competition fierce. Searching for matches is easy with a straightforward Search feature, while a rigorous verification system ensures privacy and secure transactions.
The Good
Lots of users worldwide
Easy-to-use website and app
Comprehensive member profiles
Unique extra features
Strong safety and verification measures
The Bad
Some fake profiles reported
Few features for free users
Need to pay for key features
Customer support not available round the clock
Complex subscription cancellation process
Memberships and Prices
| | | |
| --- | --- | --- |
| 1,000 Credits | 0.15 USD / Credit | 149.99 USD |
| 500 Credits | 0.20 USD / Credit | 99.99 USD |
| 100 Credits | 0.30 USD / Credit | 29.99 USD |
Seeking – Sugar Dating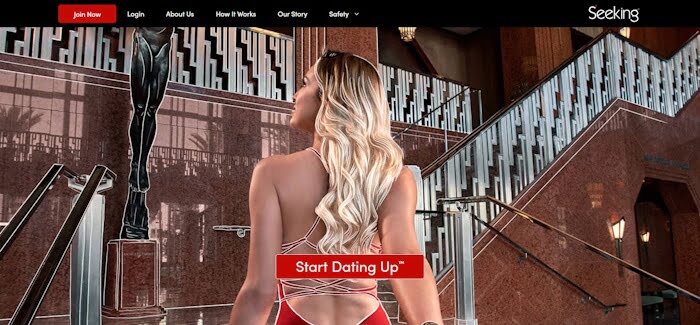 Seeking Arrangement stands apart as a dating platform, designed specifically for sugar babies seeking sugar daddies and vice versa. Users seek relationships primarily for financial benefits, with sugar daddies providing monetary support in return for anything from conversations to companionship or sex.
The site welcomes diverse gender dynamics, including male sugar babies and female sugar mommies. Registration requires significant financial transparency from the sugar daddies. Both parties can express their expectations, though prostitution is strictly prohibited, despite implicit sexual implications among some users.
The Good
Huge number of users worldwide
Four times more women than men
Quick and easy registration
Free trial with full access
User verification feature
Option for private photos
The Bad
Higher cost than regular dating sites
Only suitable for luxury dating
Risk of encountering untrustworthy users
Memberships and Prices
One-time Premium Package for Females
3 Months
15.00 USD / Month
44.99 USD
Auto-Renew Premium Subscription for Females
1 Month
19.99 USD / Month
19.99 USD
3 Months
15.00 USD / Month
44.99 USD
Auto-renew Premium Subscription for Males
1 Month
109.99 USD / Month
109.99 USD
3 Months
96.66 USD / Month
289.99 USD
Auto-renew Diamond Subscription for Males
1 Month
274.99 USD / Month
274.99 USD
One-time Premium Package for Males
3 Months
96.66 USD / Month
289.99 USD
One-time Diamond Package for Males
1 Month
274.99 USD / Month
274.99 USD
Feeld – LGBTQ+ Dating App For Hookups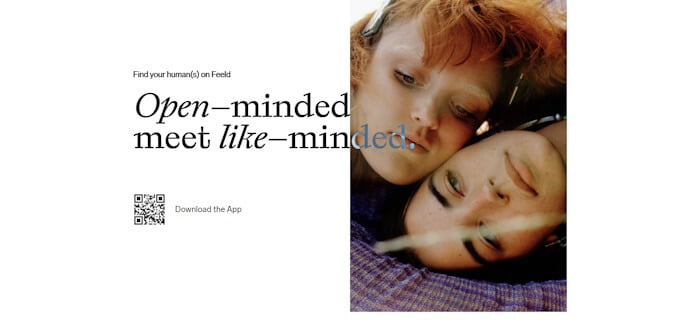 Consider Feeld if you are looking for an adult dating website like AdultFriendFinder tailored for the LGBTQ+ community. This inclusive dating app is designed for exploring ethical non-monogamy and alternative dating styles. The platform offers a selection of diverse gender identities and sexual orientations, and even allows you to pair two profiles for collaborative search. With Feeld, finding casual encounters and erotic adventures with your LGBTQ+ partner is both safe and simple.
The Good
Welcomes all sexual orientations
Over 2 million global users
Strong scam and discrimination protection
Many features are free
Unique options, such as seeing user activity and hiding from Facebook friends
The Bad
Facebook account required for login
More male users than female
Only text chat is available
No desktop version
Some features are premium only
Memberships and Prices
Majestic Membership 30 days
1 Month
11.99 USD / Month
11.99 USD
Majestic Membership 90 days
3 Months
8.00 USD / Month
23.99 USD
Tinder – Young Hookup App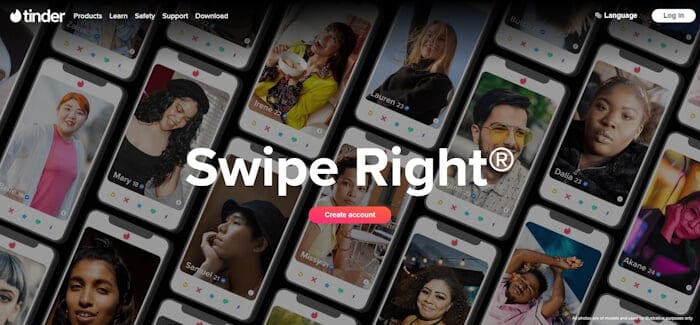 Looking for a free alternative to AdultFriendFinder? Consider Tinder, the most popular dating app out there, renowned for its ease of use and large member base. Finding matches and setting up quick, in-person dates is a breeze on Tinder, skyrocketing your chances of securing that casual rendezvous. This free hookup site is your go-to option for easy and fun connections, making it much easier to find someone!
The Good
Free version adequate for finding dates
Compatible with phone, tablet, or computer
World's most popular dating app
Quick setup time
User-friendly interface
Ideal for under 35s
Passport feature for paying customers
Unlimited messaging
Interest-based filtering
Offers video chat
Cater to various relationship types
The Bad
Tinder Plus required for more than 100 daily likes
Limited users above age 35
Less popular in non-urban areas
Selection mostly based on looks due to scanty profile information
Male-dominated, requiring standout profiles
Poorly performing profiles limit matching possibilities
Addictive and could encourage smartphone overuse
Tinder Platinum almost necessary for full benefits
Memberships and Prices
Tinder Plus
1 Month
17.99 USD / Month
17.99 USD
6 Months
9.00 USD / Month
53.99 USD
Tinder Gold
1 Month
26.99 USD / Month
26.99 USD
6 Months
13.50 USD / Month
80.99 USD
Tinder Platinum
1 Month
35.99 USD / Month
35.99 USD
6 Months
18.00 USD / Month
107.99 USD
Bumble – Hookup App for Women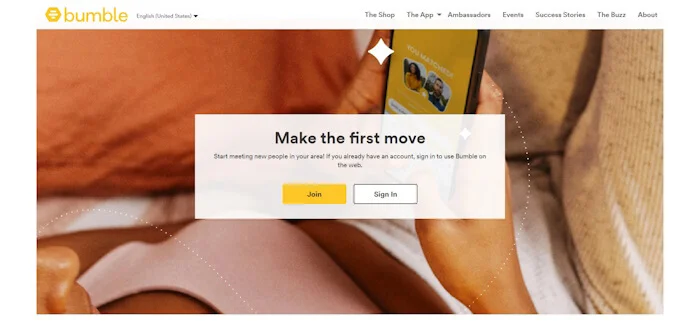 Bumble is a casual dating site that puts women in the driver's seat, making it mandatory for them to initiate conversations. Men, on the other hand, have a backseat role. The platform has a reliable verification system, ensuring genuine profiles and a healthy gender balance. While it allows correcting accidental swipes, a unique feature is the 24-hour window to initiate contact with matches. If no communication is made, the match vanishes. So, if you're seriously looking for a hookup, it's vital to log in and drop those lines daily.
The Good
Men don't receive unnecessary messages
Majority of matches lead to conversations
Equal gender demographics
Easy account setup with short bio
The Bad
Men can't initiate conversation
Potential loss of matches if women don't message within 24 hours
Limitations to message before matching for men
Need for a paid subscription to extend messaging deadline
Memberships and Prices
Bumble Premium
1 Day
3.49 USD / Day
3.49 USD
1 Week
13.99 USD / Week
13.99 USD
1 Month
29.99 USD / Month
29.99 USD
3 Months
20.00 USD / Month
59.99 USD
6 Months
16.67 USD / Month
99.99 USD
1 Lifetime
149.99 USD / Lifetime
149.99 USD
Final Thoughts
The virtual dating scene has something for everyone, including exciting alternatives to AdultFriendFinder. These casual dating platforms cater to a wide variety of interests, from fun flings and sugar dating to LGBTQ+ connections and live broadcasts. Check out our handpicked selection of similar sites to broaden your dating horizons and dive into a world of flirtatious fun! Whether it's dating and hookups you're looking for, or simply an intimate connection, these are some of the best apps and sites for adult dating that you'll find on the market today.
Frequently Asked Questions About AdultFriendFinder

Are Those Sites Better Than AdultFriendFinder?
Undoubtedly, the answer lies in your preferences and your previous experience with different sites, including free and paid sites. There are plenty of sites to find girlfriends/boyfriends, which claim they will provide you with opportunities for dating. But if you are more into a no-strings-attached type of relationship, you already know the best dating options, which are mainly apps for adult dating. Some dating sites like AdultFriendFinder don't offer the same services.
Are Hookup Apps Safe?
Online dating, whether it's traditional dating or adult dating, is generally safe, but there are differences in the quality of dating apps and sites. Some of the best hookup apps with security checks and privacy protection include Ashley Madison, Seeking, the League, or Feeld. These are some of the dating sites to find people who match your preferences.
Do Hook Up Sites Actually Work?
It all depends on the users' willingness to put in effort and time to find someone that is a good match on these dating and hooking sites. Generally, it can be said that adult hookup sites and dating site's services do work, but it may take some time and effort for some users to find success. Among these, some of the best online dating sites include both free sites and paid sites. Remember, there are also free apps available in the market.