Are you new in Texas and wondering where you can meet single women in El Paso, you've landed on the right page!
I've been frequenting El Paso for the last couple of years, and I have been quite successful at meeting lovely ladies both online and in person.
But just like you, I haven't always been the expert, so I decided to help you out and write this article that you can use as your personal guide to all the places and areas where you can have fun, date, or even fall in love in El Paso.
I will tell you:
The best places to meet El Paso women during the day
The nightlife hookup spots in El Paso
The best dating sites to use in El Paso
My top tips to pick up Texan women
Let's take it away!
Where To Date Women In El Paso By Day
There are a lot of guys out there who look at day-to-day life as their dating playground. Going to the office, frequenting their favorite coffee shop, after-work parties, running errands – you can meet girls wherever you go, so why not use the opportunity to say "Hi" and give them your number?
Obviously, sticking to particular areas, such as malls, parks, and tourist attractions, will also increase your chances of meeting gorgeous Tejanas. These are some of the places I'd recommend you hang around in El Paso.
Shopping malls
Being the biggest shopping center in the city, Cielo Vista Mall is always full of women. So are The Outlet Shoppes and Soundland Park Mall.
Las Palmas Marketplace is a shopping strip lined with stores, restaurants, and cafés, which also offers a wide array of entertainment and things to do on a first date.
And if you have already been lucky enough to find yourself a Texas girl, you can treat her to a shopping spree at The Fountains at Farah.
Parks and outdoor areas
If you are an outdoorsy guy who loves to go walking, hiking, biking, or even camping, you can always give try Franklin Mountains State Park and the Wyler Aerial Tramway. May not be the best place to meet new people, but it's a first-date must!
Carlsbad Caverns will impress any speleology buff and makes a great conversation starter, giving you plenty to talk about with your fellow "brainiac."
But if these places seem a bit too much, you can always take it easy at Eastwood Park and the Municipal Rose Garden.
Landmarks and tourist attractions
Landmarks and tourist attractions are usually full of out-of-towners and foreigners from all around the world visiting El Paso. I 100% support hanging around such places if you are looking for a quick hook-up or a one-night stand with a woman in El Paso.
Many of the El Paso women are looking to "try" something local (if you know what I mean), and that's an opportunity that shouldn't be missed! But who knows, maybe a long-distance relationship is not such a far-fetched idea!
For something more cultured and sophisticated, you can give these places a try:
Museum of History
Centennial Museum
Museum of Archaeology
El Paso Nightlife For Singles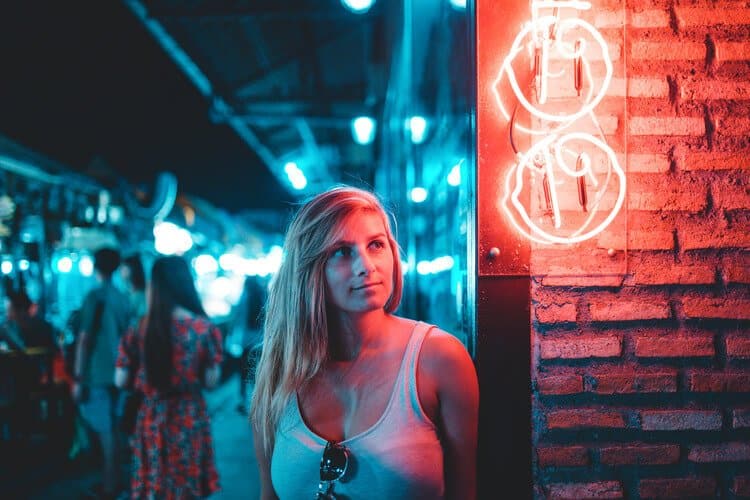 Picking up single women in Sun City should be a no-brainer. This town hides experiences for all types of nightcrawlers, party-goers, and food fanatics. There are quite a few great areas you'd want to go to with a one-night stand in mind.
Plaza Union would be the main area for El Paso hookups. Dotted with nightclubs, this is the location where all the ladies go to drink, dance, and have a wonderful time!
UTEP (especially Cincinnati and Mesa Streets) is another excellent choice when school is in session. The campus is full of amazing college girls, both local and nationwide, in search of the next unforgettable romantic experience, so why not seize the day?! (Sorry, night!)
El Paso women love Dyer Street offers a wide selection of places within walking distance to party with friends and flirt with guys.
If you are visiting the city for business, you'd want to book a hotel in any of these areas to boost your odds of spicing up your love life!
Here are two short lists of my personal favorites for bar hopping, having fun, and picking up girls in El Paso!
Best nightclubs for hooking up in El Paso
Epic
Teddy's Night Club in the Holiday Inn
Little Bit of Texas
Whiskey Dick's
Tequilas Discoteque
Best Bars For Singles In El Paso
Malolam
Aceitunas Beer Garden
Pershing Inn
King's X Bar
Monarch
Sun City Bar & Event Center
Best Sites To Date Girls in El Paso
And now, the moment you've all been waiting for – online dating!
I get it, bars and nightclubs are not everyone's favorite scene, and that's absolutely okay.
That's why we have dating apps and adult platforms. And trust me, it seems like every woman in the wider El Paso area is on them, which is what you actually want.
Here are my 3 favorite dating apps to look for quick flings and relationships in El Paso, Texas.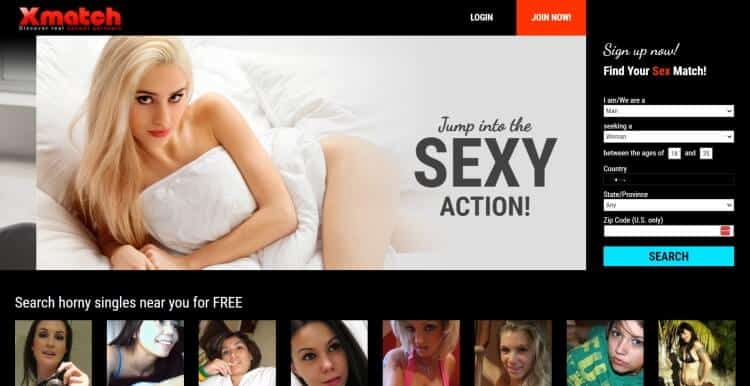 The name should tell you all! XMatch is an adult platform that caters to people looking for sex action and everyone willing to be explicit on the internet.
The platform has about 8 million subscribers, but unfortunately, many of those are inactive, leaving you feeling like you are wasting your time.
It also looks like a porn site rather than a dating app with many fake accounts, but if you are willing to invest your time and money, XMatch might still surprise you with a few hidden gems.
This adult dating site offers several free search and matching options, but its best feature is probably the possibility of engaging in virtual sex adventures with strangers.
As of now, XMatch hasn't created an app, but it does have a mobile-friendly website you can access from your phone, tablet, or computer.
Here's how much it costs to become a Premium Member:
1 month – $40
3 months – $27 /month
1 year – $19/month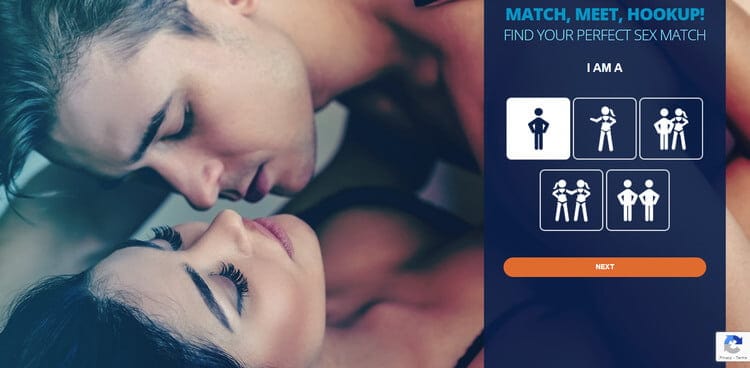 This one might be my all-time favorite! GetItOn has a growing community of about 2 million members, with 71% active users.
Sign-up is fast and easy, and you can customize your profile with pictures and personal information to attract more El Paso ladies.
GetItOn offers a few free options, such as searching and viewing member profiles, but if you want to take advantage of this dating site's best features (like webcam and video streaming), you'll have to open your wallet.
There are the current prices for a Premium membership which allows you uninterrupted communication with all members:
1 month – $38.04
3 months – $25.34 /month
1 year – $18.99/month
GetItOn is a multilingual dating app compatible with iOS, but Android users can only gain access via browser.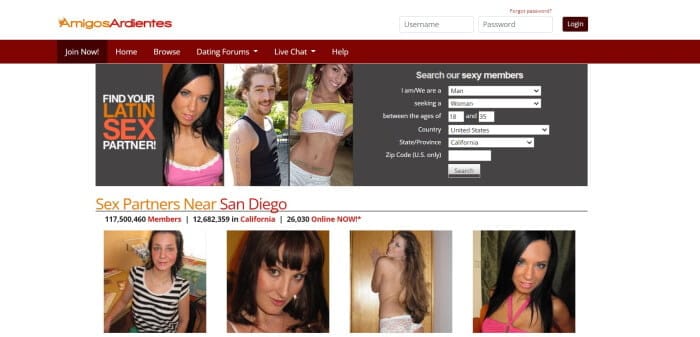 Welcome back to the early 2000s! If you ask me, Amigos can be a bit of a hit-and-miss.
You might be taken aback by the simplicity of the platform's look and design, but that doesn't mean you can't find some attractive El Paso ladies in there.
Amigos has a simple sign-up process, and you can create your profile for free. But other than that, I am not sure it has many good things to offer to its members.
This online dating site is for people looking for fun rather than committed relationships. If you are not after a hookup, you might find the myriad of explicit photos a bit overwhelming.
If you want to contact or send messages to women from El Paso on this app, you'll have to invest both money and patience.
Amigos.com offers two types of subscriptions: Silver and Gold.
Silver:
1 month – $9.99
3 months – $25.85/month
Gold:
1 month – $19.99
3 months – $35.80/month
As of now, Amigos.com has no mobile app, only a mobile-friendly version, which you can access from any browser on any device.
El Paso Dating Guide
El Paso boasts a vibrant dating scene with lots of places, events, and locations that offer the best entertainment in town.
This makes local dating life fun and exciting, with many ways to seduce or impress a lady in El Paso.
Good restaurants and bars to take your date to
Restaurants have always been great for meeting new people, spending time with friends, or taking girls out on dates. Even better if both of you are passionate about food and equally enjoy fine dining and fast-food joints.
So, if you are ready to take your belle out for a three-course meal, here is a short list of excellent restaurant suggestions in the El Paso area.
Hope & Anchor
Anson11
Circa 1963 in Hotel Indigo
The Hoppy Monk
Sunny's Sushi, Steak, & Seafood House
Eloise
El Velvet Elvis
Nice places to hang out with your date
Was your dinner date a total success? If so, you can head to the Comic Strip to continue enjoying each other's company and share a laugh.
But if you are into something more "of culture," you can see a show at the Abraham Chavez Theatre or Plaza Theatre.
What You Need to Know Before Dating a Woman from Texas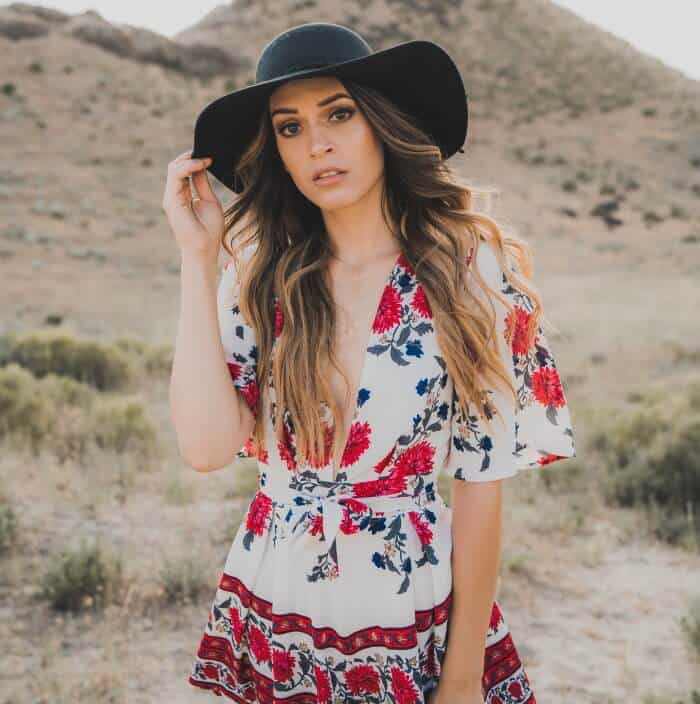 If you are not from Texas, buckle up because you are in for a surprise! Tejanas are not your average Jane! Here's what you need to know:
Tejanas love football more than most men in your life and follow it religiously. If you are not interested in this game, you are not on their radar. Simple as that!
If you are pursuing an El Paso lady, you should know family comes first. They are big, they are loud, and they are Texas proud! This leads to the next point…
You should love Texas as much as she does!
Yes, I understand you are from (insert a different state here), but if you want her, you better wear the Lone Star like a badge!
There is no need for anything fancy here. An El Paso girl knows how to enjoy herself with a beer, tacos, and some smoky BBQ. Trust me, you'll love it too!
Enjoy dating El Paso Girls
The Sun City is a desert oasis that hides some of the mouse beautiful single ladies in Texas. For all our readers looking to meet women in the El Paso area who are smart, beautiful, and very passionate, this guide will take you through the best places and areas in town.
Now that you have all you need to find the woman of your dreams (or just a quick hook-up), it's time to take your love life to the next level!