Nashville is a vibrant city with a rich cultural and musical history. Known for its lively atmosphere and friendly locals, it's no surprise that Nashville is a popular destination for those looking to meet new people and potentially find hookups.
As a man who lived in Nashville during my prime dating years, I have insider knowledge on the best hookup places to go both at night and during the day.
Whether you're a resident of Nashville or just visiting, there are plenty of places to go to meet girls in Nashville. In this article, we will explore
Best places to meet Nashville women during the day
My favorite nightclubs and bars in town to meet cute girls
Online dating in Nashville
Tips to successfully date Nashville women
So grab your dancing shoes and get ready to have a good time in Nashville!
Best Places to Meet and Date Girls in Nashville During the Day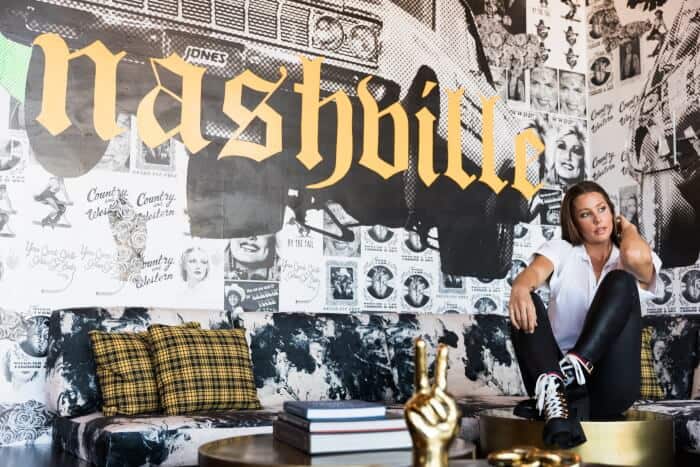 The city of Nashville is teeming with beautiful, sexy single women just waiting to be swept off their feet. There are plenty of opportunities to meet and connect with eligible ladies during the day in Music City. From bustling shopping malls and scenic parks to iconic landmarks and popular tourist attractions, get ready to experience the thrill of the chase in Nashville. So grab your best pick-up lines!
Top shopping malls to meet single girls in Nashville:
The Mall at Green Hill
Coolspring Galeria
Plaza Mariachi
The best parks in and near Nashville where to hang out if you want to meet women who enjoy nature:
Centennial Park
Fanny Maes Dees Park
Percy and Edwin Warner Parks
Looking to elevate your dating game in Nashville? Why not visit some of the city's iconic landmarks and popular tourist attractions? Not only will you get to experience the rich culture and history of Music City, but you'll also increase your chances of meeting an interesting and cultivated woman.
Nashville Parthenon
Tennessee State Museum
Music City Walk of Fame
Nashville Nightlife For Singles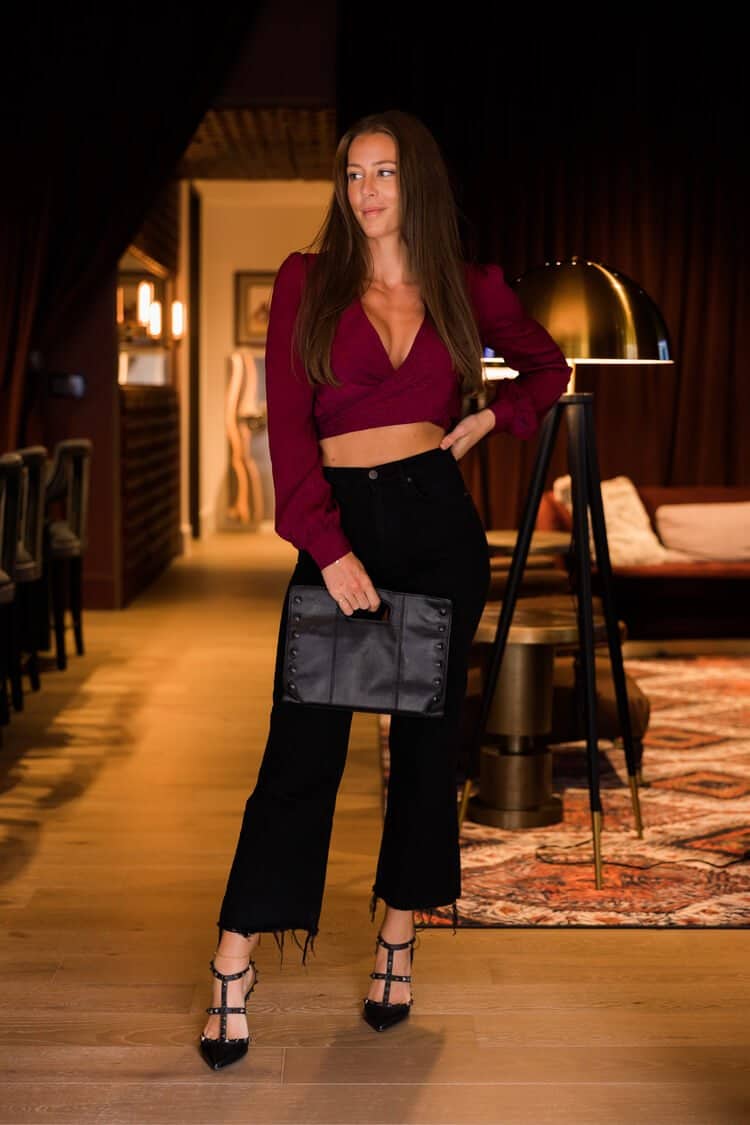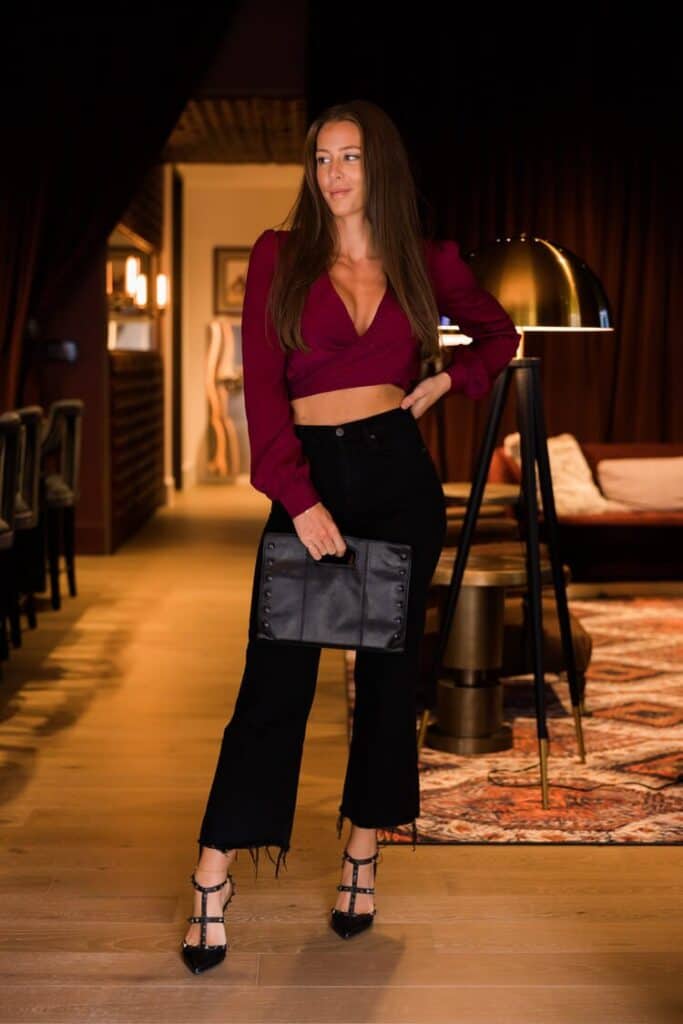 Do you want to experience the wild nightlife of Nashville? Head to downtown Nashville, it's the city's bustling hub for singles and night owls. You will find a wide array of singles bars and nightclubs, where plenty of sexy single women looking to have some fun.
You should also consider checking out Midtown. With its laid-back atmosphere and abundance of casual bars and restaurants with live music, Midtown is a great spot to mingle and hook up without breaking the bank.
So grab a drink and your pick-up lines and start talking to women!
Best Bars To Meet Nashville Women
There is a bar on almost every corner street in Nashville. Whether you like a fine-crafted cocktail with ice cubes or a cold beer, your choice will taste much better with a fine girl beside you. While the list is vast, these are the bars that stood out for me:
Red Phone Booth
Rippy's Bar & Grill
Zeppelin Nashville Rooftop Bar & Lounge
Mickey's Tavern, a cool dive bar
Best Nightclubs to Hook Up in Nashville
Some of the best nightclubs where you are likely to meet and hook up with sexy women in Nashville include the following:
The Lipstick Lounge
Tribe
The nice thing about Nashville is that you can never miss a joint as these clubs and bars are mostly side by side on both sides of the street and open till 4 a.m and even later on the weekend.
Dating Sites in Nashville
If you're having difficulty approaching and flirting with people in a busy environment, then online dating may be the answer. With the rise of popular apps like Tinder and eHarmony, it's now easier than ever to filter through millions of users in search of serious partners or casual hookups.
In Nashville, there are several dating sites that are worth considering. Here are a few recommendations: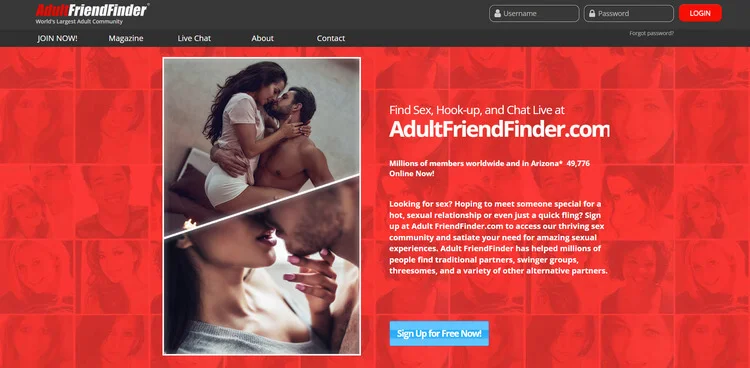 Adult Friend Finder is a popular dating app that caters to those seeking casual relationships, such as friends with benefits (FWB) and hookups. With over 80 million members worldwide and around 2 million active users at any given time, the app offers a diverse user base of individuals from all ages and backgrounds.
Registration is quick and easy, and the app takes user privacy and security seriously. Moderators monitor the app to ensure a safe and harassment-free experience for all members. If you're looking for a casual relationship or hookup in Nashville, Adult Friend Finder should be your first choice.
Pros
It's all about hookups and sex
Over 80 million active users with all kinds of sexual fantasies
Active customer support
It has good interactive features such as live cam.
Cons
Not for finding long-term relationships
It does not have an iOS-android app.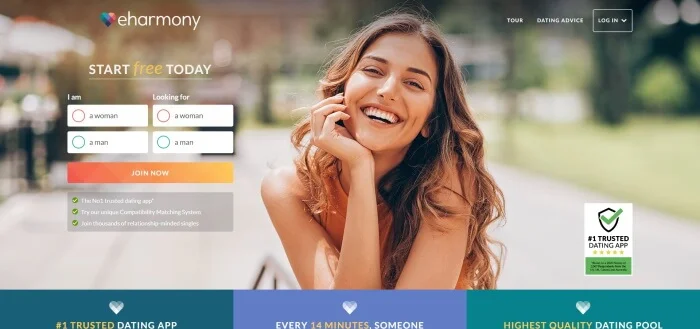 eHarmony is a popular online dating platform that uses a compatibility matching system to help users find partners. The platform was founded in 2000 by clinical psychologist Dr. Neil Clark Warren, who believed that traditional dating websites were not effective at finding long-term relationships. eHarmony uses a detailed personality assessment to match users with potential partners who are likely to be compatible based on 29 dimensions of compatibility. The platform is designed for users who are looking for serious, long-term relationships rather than casual hookups.
Features
Has over 20+ years of online presence
Uses matching algorithms
You can filter through recommendations by age, city, among others
Over 10 million active users
It has an exciting dashboard.
Pros
High-quality singles to choose from
It has one of the easiest and cleanest interface
The site features a dedicated Trust and Safety team
Basic membership is free
Millions of active users
High-tech matching system
Cons
One of the most expensive dating sites
Longer signup process
A hectic canceling process
The cost of premium membership isn't transparent
Aside from the above, eHarmony has some of the most advanced features, including an SMS verification option, a video chat option, and a proactive support and security team.
Elite Singles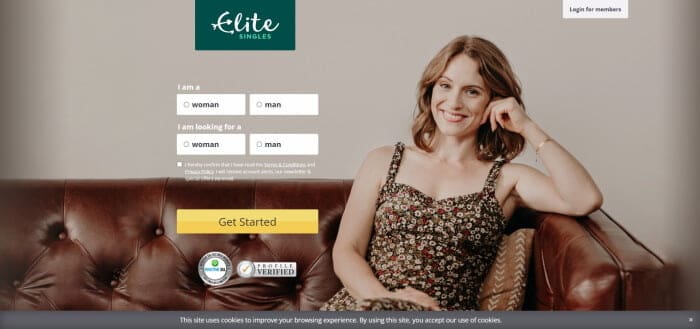 Elite Singles is the site to use if you're looking for a high-quality dating experience in Nashville. With its focus on educated and established singles, you can expect to meet intelligent, successful women who are serious about finding a similar partner. From my own experience using the app, I can attest to the fact that the singles on Elite Singles are not looking for games or flings – they're looking for real connections with like-minded individuals.
Pros
Hundreds of thousands of single users
85% of users are well educated
Offers in-person and virtual speed dating
It has a swipe-style dating feature
Cons
Limited free trial
Expensive premium membership
Few features are available for those using a free membership
Match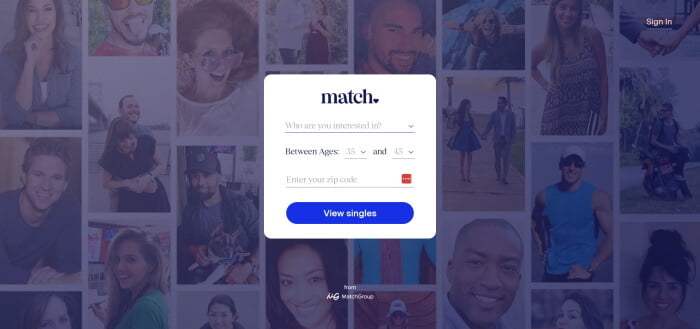 Macth.com was launched in 1995, making it one of the first online dating sites. Though not the cheapest, Match is one of the sites that I quite liked. It has a finely-tuned interface, a smooth signup process, and you're not allowed to create an incomplete profile. I consider it one of the best dating sites if you're looking for a real-life partner in Nashville.
Pros
Many real and vetted profiles
Excellent filtering tool
It has a video chat feature
Ideal for those looking for long-term relationships
Quick and easy signup process
Cons
Expensive
Has received numerous reports of glitches and bugs in the software
Too many ads throughout the interface
It isn't easy to cancel a subscription
A low number of female users as compared to sites like eHarmony
Nashville Dating Guide
You have made efforts, and now you have a date. Set the right mood by finding the right place to take your girl.
If you want a more intimate moment with your date, stay clear of the neon valley of the urban core. Instead, consider checking the outskirts of downtown. The area has several restaurants that have created the right ambiance for romance.
Here are some of the restaurants that worked for me:
Bourbon Steak
Old Hickory Steak House
The Melting Pot
Valentino Ristorante
The Continental
If you and your date love fun activities, there are multiple fun things to do in Nashville. Some of the exciting activities that you can engage in:
A visit to House of Cards
Charcuterie Board Workshop
Zanies Comedy Club
Music City Indoor Karting
As you can see, there are many special places and fun things to do for you and your date in Nashville. Also, remember that chivalry and dating etiquettes still exist in Nashville and will go a long way in making the best first impression.
The competition is stiff, so make an effort and show manners if you want to win your date's heart.
What You Need to Know Before Dating a Woman from Nashville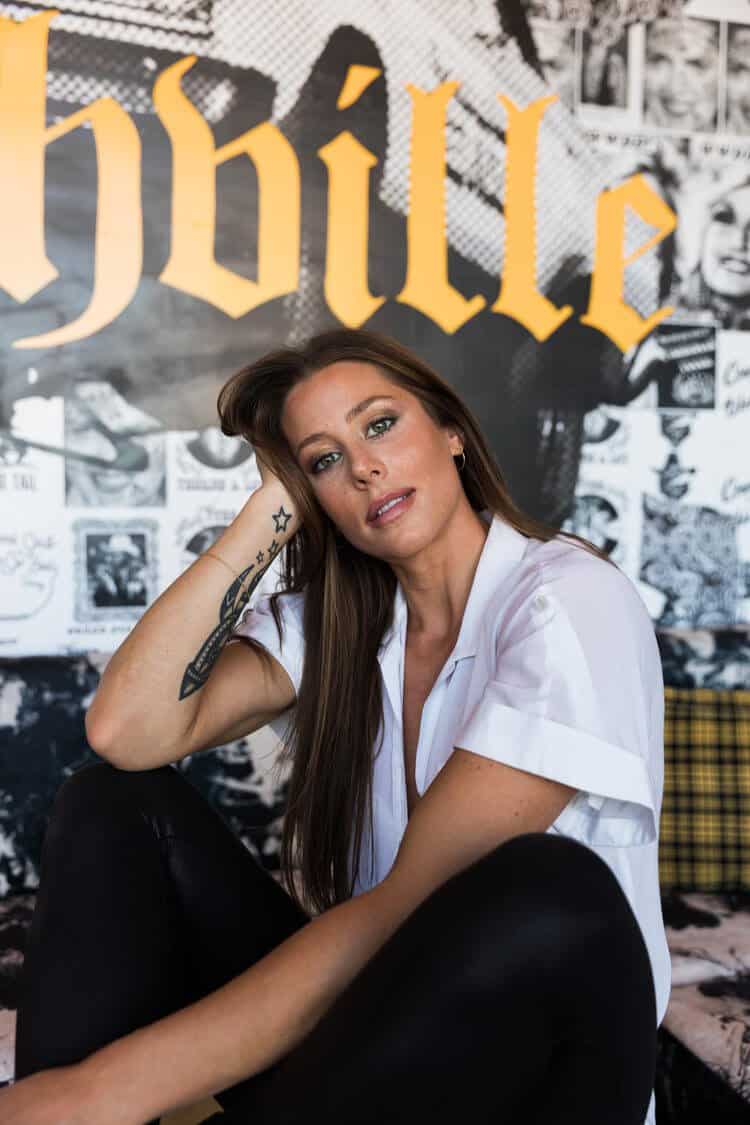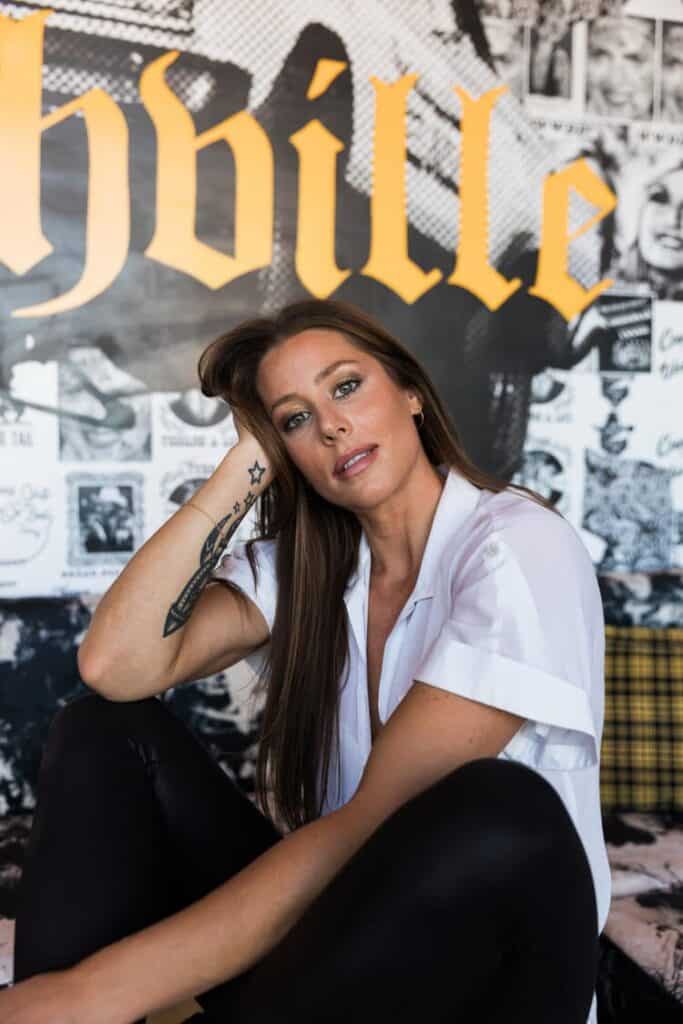 There's much more to Nashville than its usual stereotype of a city full of musicians. One thing is for sure, Nashville is full of trendy local and visiting girls. If you're lucky to find and date a girl from Nashville TN, there are a couple of things you should know about them.
Chivalry is expected
Chivalry is not dead in Nashville, and both guys and women still prefer it. To succeed in the Nashville dating scene, expect to follow the traditional dating rules. You will pay the bill when you're out on a date, open doors, and even offer your jacket when it gets cold.
Musically Talented
Nashville is full of musically talented people. While in Nashville, it's more likely that you will date a songwriter, singer, or just a girl who loves music. It's even better if you're musically inclined. You can all have fun in the musical world without one of you feeling left out.
They are Adventurous
Tennesseans are always up to trying new things. Aside from great music and good food, they enjoy many outdoor activities such as hiking, paddle boarding, swimming, and fishing. You will never be bored with this kind of adventurous spirit.
They Love Good Food
Dating a girl from Nashville will have you also hooked to their food. Girls from Nashville are brought up in homes where cooking is an everyday activity. Aside from that, the city is full of breakfast joints, late-night eateries, and barbecue restaurants. With all these, it's hard to escape the love of food
Enjoy Dating Nashville Women
There's no denying that Nashville is a fun and vibrant city full of exciting things to see and do.
With its mix of tourists and local single women, you're sure to have a perfect time in Music City. This guide has provided you with all the information you need to know about the best places to meet single women and get laid in Nashville, from scenic parks to singles bars and nightclubs.
And if you prefer to meet people online, you can also sign up for one of the dating sites listed above to connect with local women.
Get ready to experience the thrill of dating in Nashville!