I've worked in New York for a few years. Sure, everything is overpriced, everyone always seems to be in a hurry, traffic gridlocks can drive you insane, and the Knicks somehow make it into each conversation you have at the bar – but it does have its benefits.
For one, it's bustling with a vibrant social scene and, in truth, is the land of opportunity.
How about my dating life? I'm glad you asked.
While I'm still in pursuit of "the one," she seems very elusive. But I have had quite the intrigues, meeting different ladies over the years.
So if you're wondering where can you meet single girls in the five boroughs in New York City, this guide, from what I have observed over time, can prove useful.
I will go over:
Where to meet girls in the Bronx
Best places to hook up with single women in Manhattan
Best places to pick up single women in Brooklyn
Where to meet and date women in Queens
Best places to meet and date women in Staten Island
Where to meet girls in New York City during the day
Best online dating sites for NYC hookups
New York City dating guide
What you need to know before dating a woman from New York
Ready? Let's see where you can get laid in NYC!
Where to Meet New York City Girls in The Bronx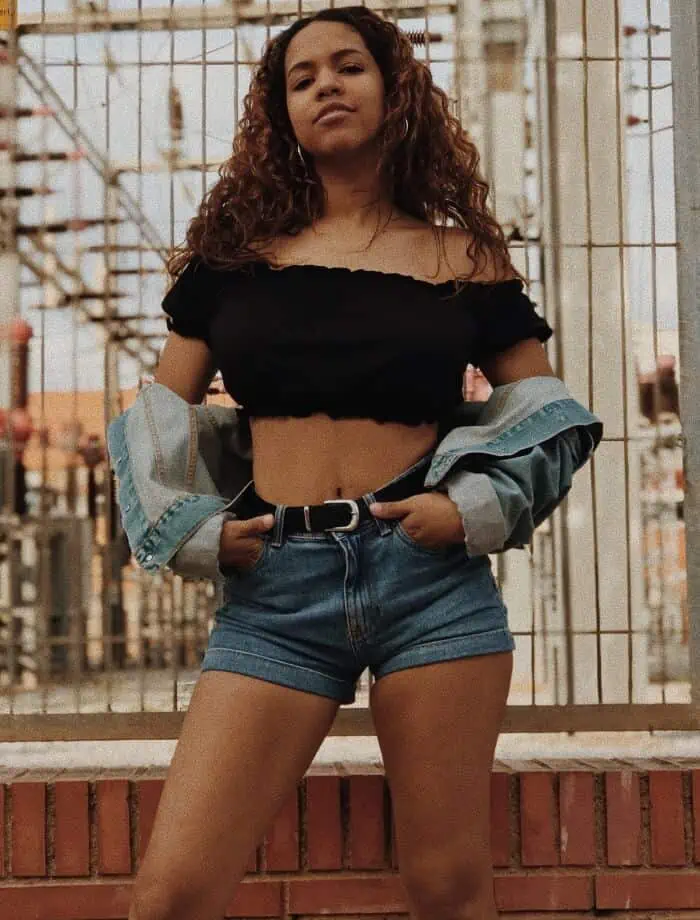 Insider tip – The Bronx has the best pizza in the city, and the locals here are really proud of the place. But it gets quite noisy. Trains roaring by, construction activities on every corner you turn, and remarkably thin walls – it can take some time to get used to. The Bronxites themselves can sleep through anything and are already used to yelling at each other when talking – but that's not how you want to go picking up on babes from this part of town.
Hitting on single women on the streets can easily become quite challenging, especially if you have to keep raising your voice as you attempt to make conversation.
Instead of the streets, I suggest heading out to these spots:
Best nightclubs for hooking up in The Bronx
Patron New York (1465 Jerome Ave) for its bustling nightlife
Union Rincoena Inc (586 E 161 St) if you're after the cougars in New York City
La Princesa del Rodeo Corp (1177 Wheeler Ave), a full-on disco club
African International Night Club Letrou – 7 E Clarke Pl, which is a distinct afro chill spot
Best singles bars in The Bronx
G Bar is the best bar to pick up girls and get laid in New York City – the cozy and spacious spot for cocktails and live music is located next to Giovanni's Italian restaurant. Happy hour runs from Monday to Friday, G Bar is a popular spot for local girls and anyone looking to have a fun evening.
Skyline Bar & Lounge Bx (1511 Wilkinson Ave) – Between the cocktails, bar pizza, pool tables, great karaoke, and outdoor seating, you will have plenty of opportunities to strike up conversations with any kind of girl.
Illusions Hookah & Mixology Lounge (3229 Westchester Ave) – Here, you get upbeat music, custom cocktail selections, and loads of hookah options that the girls in NYC seem to enjoy.
Mingles Restaurant & Lounge (4012 Boston Rd) – Meet lots of girls as you soak in some Caribbean cuisine. This spot features a martini bar and lounge with live comedy & karaoke nights.
Best Places to Meet Single Women in Manhattan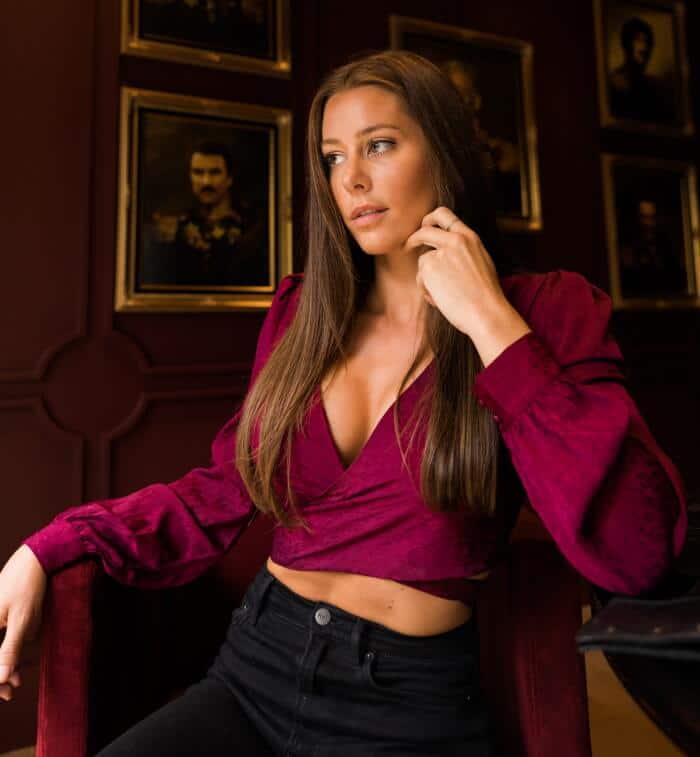 Life moves fast here. After all, it's THE city that never sleeps. Even the neighborhoods themselves function like mini-countries -from Midtown, Upper East Side, and West Village to Chelsea and Greenwich Village. No point in trying to pretend that you can go find cheap spots to meet women in New York women and take them out on dates. If you're on a budget, then this may not be the place for you.
While trying to pick up babes in Manhattan, it's important to not take any rejections personally. There are so many people in the city, and it's normal if some of them don't hit it off with the ladies. That "New Yorker Ego" may have also gotten to them, depending on how long they have been around. However, if you're respectful, they will be too. That being said, the chicks can get down for a good time.
Here are the top places for you to meet New York girls in Manhattan:
Best nightclubs for hooking up in Manhattan
Le Bain – It's on the roof of the Standard Hotel, and comes with its disco, bar, plunge pool, and of course, poolside drinks.
Avenue – Located on 116 10th Ave, this nightclub is thronged by models and celebs alike.
PHD Rooftop Lounge at Dream Downtown – Skyscraper views, cocktail lounge, it's a favorite for New Yorker's beauties.
LAVO Italian Restaurant – There's a downstairs nightclub with great music and prices that won't scare you off.
Best singles bars in Manhattan
The Blond – A lavish spot with a young crowd, nestled in the 11 Howard Hotel
Penrose (1590 2nd Ave) – Plenty of room and lovely ladies sipping classic cocktails
Stumble Inn (1454 2nd Ave) – Gives off that traditional New York sports bar vibe and is reasonably priced
Belfry (222 E 14th St) gives you a darker atmosphere, with great music and cocktails, and being a popular spot for hangouts increases your odds of meeting a New York single lady.
Best Places to Meet Girls in Brooklyn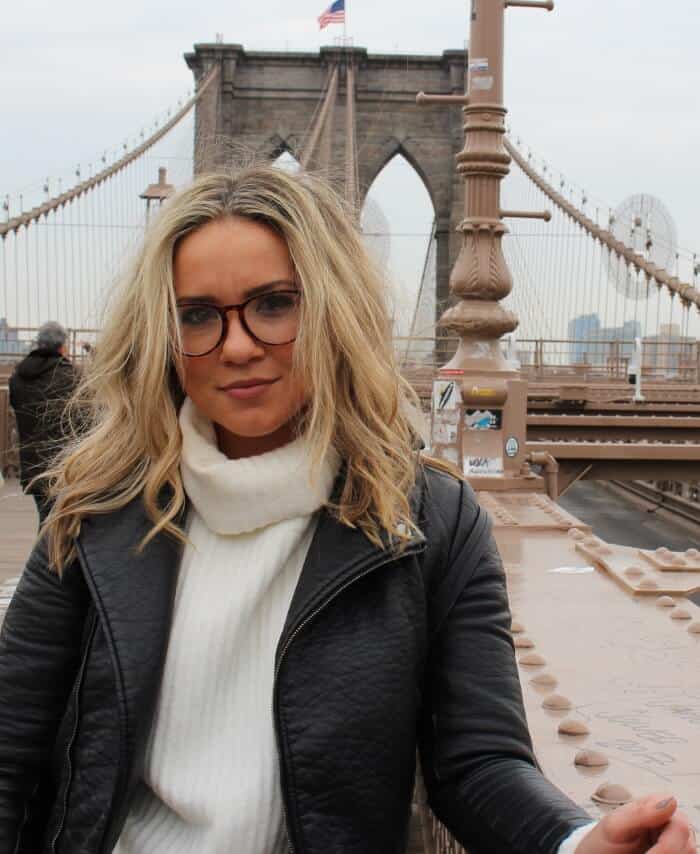 A few years back, Brooklyn was the place to be. It was a magnet for the young and adventurous, and entrepreneurs also came here in droves. So that led to it having a rife nightlife for singles – much of which remains to this very day. Of note, it's now mainly seen to be an area that hipsters took over – especially near L-line stations and regions south of Queens.
One favorite for meeting up with plenty of sexy ladies is Williamsburg, and this goes for both the day and night. Here are other areas where you can pick up hot girls in this part of NYC:
Best nightclubs for hooking up in Brooklyn
Quantum Brooklyn (177 2nd Ave) – A neon-lit nightspot with sexy party girls dancing to DJ's music. Just be sure to carry along some cash if you want to avoid the minimum CC charge at the bar.
B66 Club (6612 New Utrecht Ave) – Babes drawn by the cocktails and dance floor, plus hangouts at the pool and foosball tables – this spot has them all.
Best singles bars in Brooklyn
Mood Ring (1260 Myrtle Ave), which is pretty chill, mostly because the people here are after a good time. It can get quite packed, though – but even the outside space is great for striking up conversations with people here.
Barcade (148 West 24th St) – and as you can tell from the name, it brings together beer and arcade games – many at $5-10 worth of tokens. Try picking up a babe in the middle of a classic PacMan game.
House of Yes (2 Wyckoff Ave) – Here, you get a combination of dance, circus, and theatre. Plenty of single women get tickets to the performances, which also makes for good conversation. And being a popular spot, you should get those tickets early on or end up waiting in line for long.
Skinny Dennis (152 Metropolitan Ave) – This a country bar with live music to match. The authentic atmosphere and homely bar feel make it a relaxing setting to chat with the single ladies hanging out here.
Where to Hookup With Women in Queens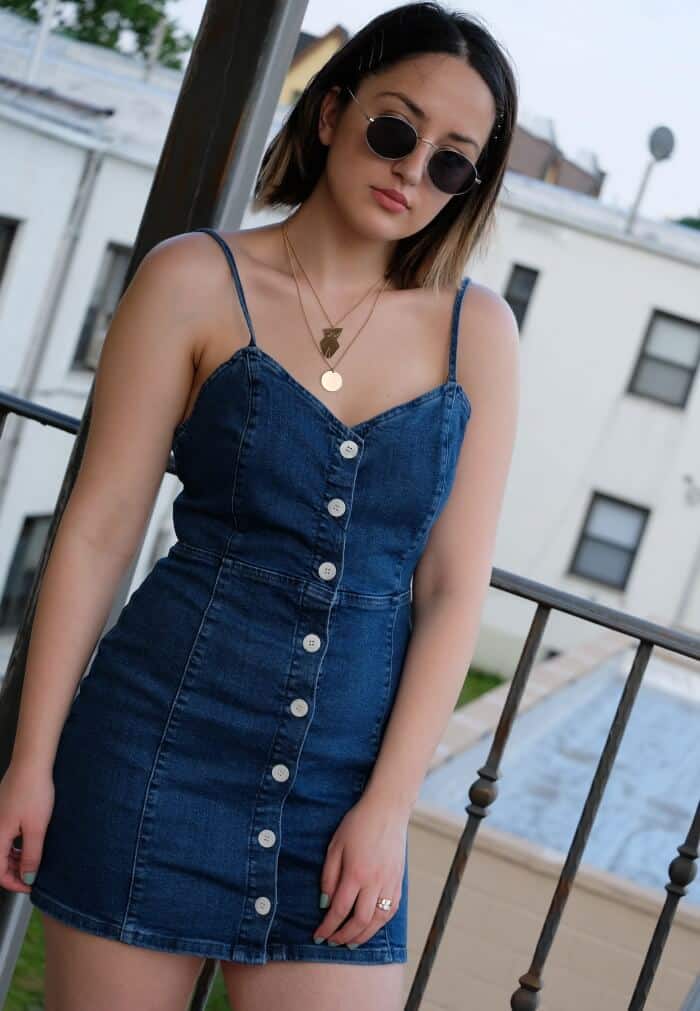 Away from the concrete jungle of the huge city, Queens has plenty of open spaces and relaxing settings for that potential meet-up with a single babe who'll interest you. That doesn't mean the numbers are fewer here. In fact, it's the county with the second largest population in New York State – behind Brooklyn. It's ethnically diverse, giving you a wide pool of single women in New York City to chat with from different walks of life.
A favorite area to meet new ladies is Long Island City, which is sprawling with top-rated restaurants, a vibrant art scene, and performance venues. It's on the extreme western tip of the county.
Here are other spots to check out to find a New York City hookup in Queens:
Best nightclubs for hooking up in Queens
Deseos Lounge (52-15 Roosevelt Ave), especially on the weekends with the Saturday's classic salsa and Sunday Social.
Flamingo (85-12 Roosevelt Ave) that's essentially a dancing bar, and you can even have the cute girls show you some Spanish moves.
Best singles bars in Queens
Two particular favorite joints to pick up singles in Long Island City are the Lic Bar on 45-58 Vernon Blvd, which is frequented by locals, and Dutch Kill's Bar on 27-24 Jackson Ave, where the singles pop in here for its signature cocktails and heated outdoor seating.
Other spots in Queens are:
The tropical-themed Tropix Bar & Lounge (9532 Queens Blvd, Rego Park), where there are ladies having a blast with hookahs and downing cocktails.
Donovan's Pub (57-24 Roosevelt Ave, Woodside) with its old-school Irish vibe.
The rooftop Leaf Bar & Lounge (133-42 39th Ave) has a great atmosphere for that first conversation with a potential match.
Doha Bar Lounge (3834 31st St), which has a casual setting, and happy hour cocktails to enjoy with the single ladies and dance the night away.
Best Places to Meet Women and Get Laid in Staten Island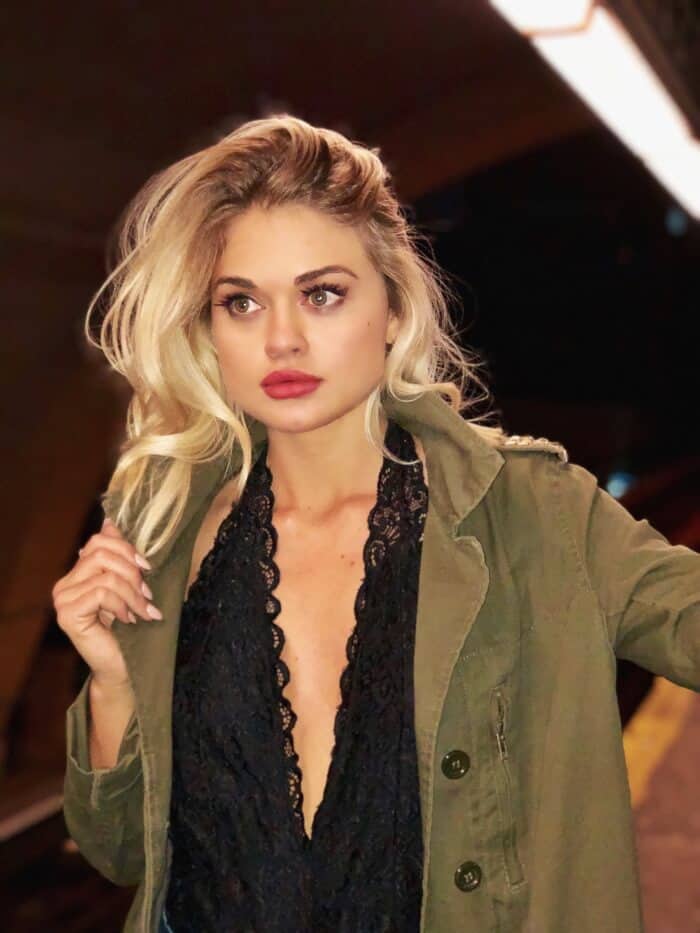 This borough is not that "famous," and it's actually the least populated of New York city's boroughs. Most people from out of town don't even realize it's part of the city. However, the locals here are loaded, making it the second wealthiest after Manhattan. When here, you will see plenty of "Richmond" signs everywhere, but don't let that confuse you. These are named after Charles Lennox, who history will tell you was the 1st Duke of Richmond.
Many of the single women here seem to be Italian. A popular spot for meeting new singles is the Staten Island Mall, the only indoor mall around. Many of the locals hang out here even when they aren't actually shopping for items.
Best nightclubs for hooking up in Staten Island
Cabo Mexican Restaurant Lounge Nightclub (96 Page Ave,) for its Mexican flair and classy ladies dancing to the relaxing music
Above Rooftop (1100 South Ave), which is actually a wedding venue that also features a cocktail bar and nightclub where the liquor keeps flowing
Best singles bars in Staten Island
The rustic Craft House (60 Van Duzer St) bar is where you will likely meet groups of singles hanging out – but with a welcoming chill atmosphere.
1001 Nights Cafe & Lounge (2025 Richmond Ave), where you'll meet any type of girls who love the Hookah experience. The laid-back atmosphere makes it a great spot to hang out.
The Coupe (379 Van Duzer St), is a cocktail bar with a dark ambiance, chill vibe, and friendly staff. It doesn't really get packed, but that adds to the relaxed setting for you in your quest to find a New York babe to spend time with.
Burrito Bar (585 Forest Ave) was converted from a house, bringing a casual and easygoing air to it. Plenty of local ladies visit it for the drinks and burritos – and you can chat them up, even in the outside seating area.
Where to pick up girls in New York City during the day
For starters, there are single women in the city everywhere you turn – so the numbers are in your favor. From the moment you step out of your hotel or apartment and into the street, you can test out your day game on any of the ladies within your vicinity.
However, with so many people around, walking as though they are always late for a deadline, striking up a conversation will have its challenges. That sexy babe walking from the subway to her office or whizzing past the street to a meeting won't properly take kindly to a stranger stopping her for some chit-chat. So don't be shocked if you strike out.
Things on Fifth Avenue slow down though, so there will be higher chances of having a conversation. This is a shopping district with plenty of single ladies – both locals and tourists – strolling around. This makes it a good starting point.
Another is Hanover Square – especially during lunch hours or at the close of business day, where you can grab a seat at any of the bars around and wait for the professional single women to stream in.
Other areas to meet girls during the day and get your pick-up day game on are:
Shopping malls
Brookfield Place overlooking the Hudson River
Williamsburg (Brooklyn), where there will be ladies checking out chic boutiques
Westfield World Trade Center, where there will be plenty of ladies in the afternoon
The Shops at Columbus Circle, an upscale venue
101 7th Avenue, packed with classy ladies who will be checking out the high-end brands and accessories
Parks and outdoor areas
Hudson Yards
Central Park
Union Square Green Market, a year-round farmer's market
Murray Hill
The arty streets of Soho
Landmarks and tourist attractions
American Museum of Natural History
Rockefeller Center
One Direction World, where the ladies particularly love the sunset views from the observatory
Best Online Dating Sites to Find Hookups in New York
Being one of the world's most populous cities, it's no surprise that dating sites are packed with singles looking for a match. You can find those interested in hooking up here: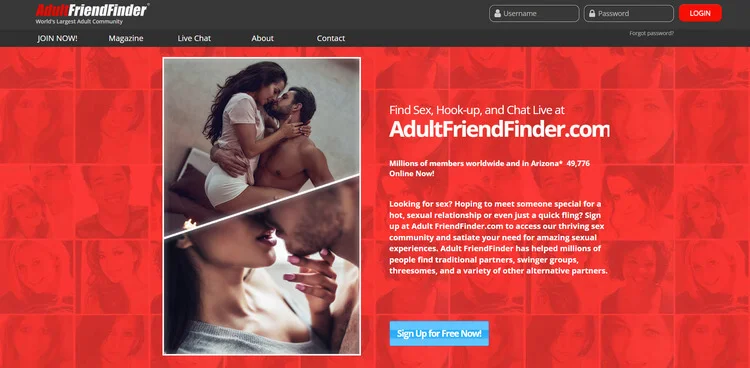 There are plenty of open-minded NY ladies on the site looking for a casual fling, hookup, or friends-with-benefits arrangement on this dating website.
It's open to fetishes and kinks and also has adult chat rooms and live sex cam girls. Due to the massive user base of 80 million+ members, there are plenty of locals regardless of which New York borough you're searching from.
With a Gold membership, your odds dramatically increase due to all the matches with horny local babes you'll be getting.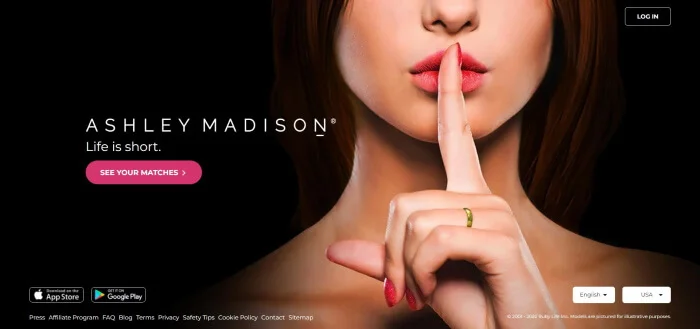 Known for being popular amongst users seeking extra-marital affairs, Ashley Madison has built quite a reputation for itself.
Users here range from singles, those attached, or babes to experiment – and they're not beating around the bush. Of course, that means there are loads of scammers, but you can easily tell them apart from genuine users.
As a guy, once you register, you can see users in your area who want to interact and even send a free message – but from there, you'll need to buy credits if you want to proceed with the conversation.
For the ladies, using the dating site is free, which is also why women make the majority of its 75-million-strong user base. There are mobile apps for iOS and Android devices.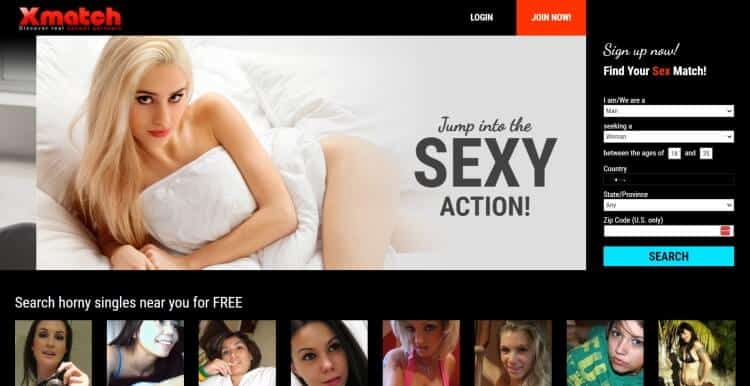 Hookups are all the rage here. One-night stands, FWBs, swingers, kinks, fetishes, casual relationships, etc., and they don't hide it. There is also a particularly high number of couples searching for "third wheels."
The profiles are pretty detailed, expounding on the body type, astrology signs, smoking/drinking/drug preferences, bra size, even eye color, and whether they wear glasses or contacts. After listing your kinks, you get a compatibility chart showing you users closely matched to you.
Averaging a monthly 1,300,000 users, browsing around 26 pages on each visit, the site is popular even amongst New York singles and get thousands of new members every week. However, there is no specific app for Android or iPhone platforms.
Tinder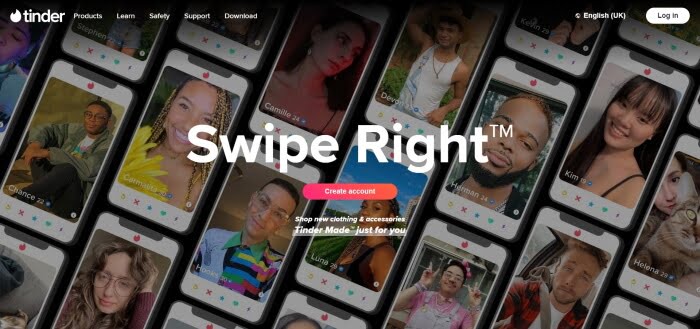 It's the second largest dating app in the world, downloaded over 340 million times and having handled 55 billion matches so far. Of course, it will also have plenty of single babes from New York, given all the young professionals around.
With Tinder Gold, you can see which of these sexy ladies liked you first, then swipe right and start taking them immediately. Its pricing model factors in the age of users, with the older ones paying more. The app is available for iOS and Android, and the web version is also easy to use.
New York City Dating Guide
Once you make your match and things are going well, take her out to these spots in New York:
Nice places to hang out with your date
Gotham Comedy Club on 208 West 23rd Street, is a popular joint for stand-up comedy.
Museum of Interesting Things is set in a private collector's home on Georgetown Plaza, 60 E 8th S.
The Bell House is a live venue featuring some of the biggest names around, from comedians to bands.
Lincoln Center for the Performing Arts
New York Hall of Science – You can get hands-on here with its interactive exhibits and workshops. It's especially popular for sexy and smart ladies.
Get competitive with the trivia contests at Pete's Candy Store
Good restaurants and bars in New York City to take your date to
One if by Land, Two if by Sea (17 Barrow St)
The River Café (1 Water St)
Central Park's shaded Express Café, 72 E 72nd St
Beauty & Essex (146 Essex St)
Patricia's of Morris Park, an Italian eatery on 1082 Morris Park Ave, The Bronx
What You Need to Know Before Dating a Woman from New York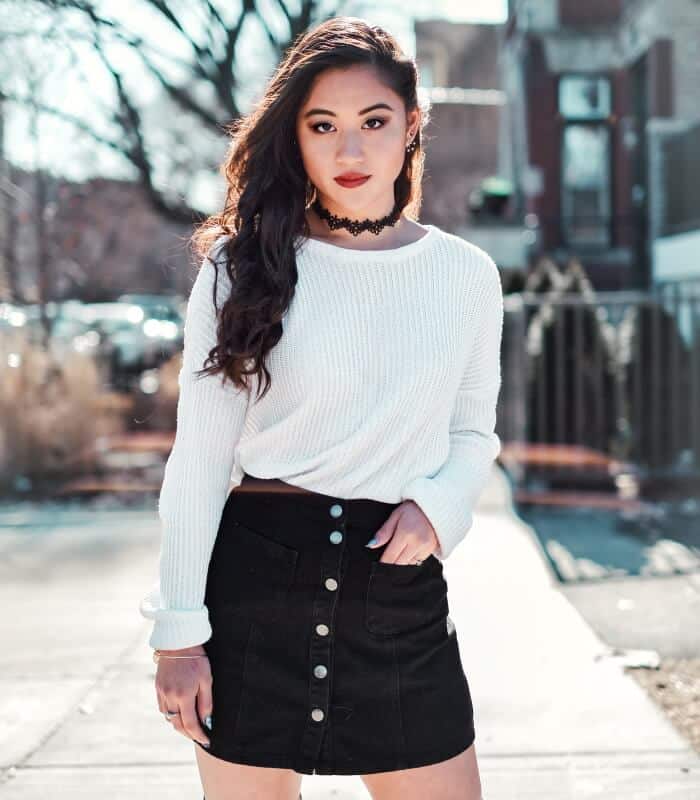 She'll addicted to her phone
So, she'll keep whipping it out on the date to check her notifications. Unfortunately, this may also include that dating app that you two also matched on. Up your game with an interesting date spot and conversation to hook her attention all through.
The date location you pick. How you dress. Your choice of words. She will form an opinion of you that will set the tempo for the rest of the date.
Don't go calling it "The Big Apple"
That's like walking with a signpost saying, "Hey there, I'm a tourist!" Nothing wrong with being one, but you don't want to come off as a newbie who's trooping around the city, marveling in wonder at every stand, block, and art center. It's okay to be impressed – just don't make it the one thing that screams about you.
Her ambition may be overboard
Seriously, do you realize what it takes to live here? Affording her upkeep expenses alone means she will be going full-throttle in her work-hard/play-hard lifestyle. Career growth and recognition just add to the fuel.
You can impress her with an "out-of-the-box" date spot
New Yorkers walk around with this "I've seen it all" attitude that taking her to a new restaurant that just popped up, or even that odd and upcoming comedian hosting a live show, will actually make an impact on her.
Enjoy dating NYC women
The sheer number of people in New York makes it easy to form new connections and experiences. However, it's easy to get overstimulated by all that hustle and bustle, such that you can get anxious – and also get lost in the information overload.
This guide has broken things down and given you the ins and outs to navigate the dating scene of the city and its surroundings. You now know the best places to get laid and where to find New York hookups.
So go meet different girls looking to connect and have a good time. You can also sign up for one of the dating sites above to increase the odds of success.