I'm an ocean lover, so it's obvious that the Florida Keys would be on my vacation list. I was able to spend an entire summer in this corner of the world. Going on excursions, glass bottom boat trips, and kayaking amongst the mangroves, plus the occasional dive at the reefs – the months there were fantastic.
Being a solo trip, I was also on the lookout for lovely ladies to spend some of my days with – and Key West has no shortage of sexy singles. I encountered a mix of locals and well as tourists like me out to have a good time, and will share tips from my trip here.
Where can you meet single women in Key West?
Buckle up as we delve into the dating scene in the Conch Republic – yes, that's what the locals call Key West, and they refer to themselves as Conchs, though it can take you some time to get that smoothly rolling off your tongue.
This guide will look into:
Where to Meet Key West Girls During the Day
Best Places to Hook Up With Single Women in Key West at Night
Key West Hookup Sites
Key West Dating Guide
What You Need to Know Before Dating a Woman from Key West, Florida
Where to Meet Key West Girls During the Day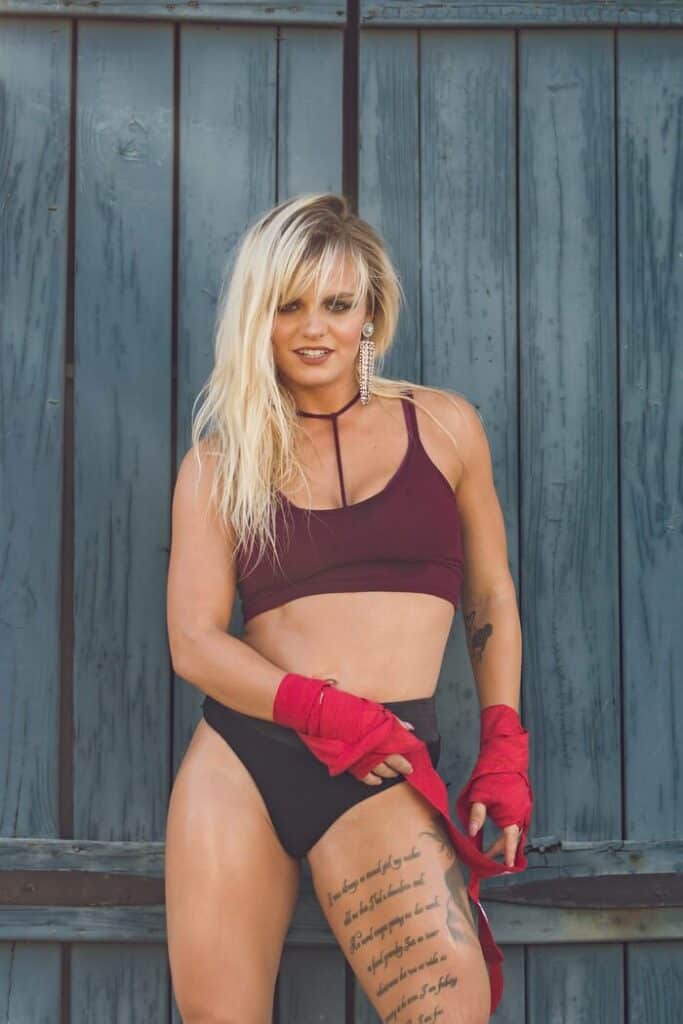 Given that this is not a big island, and there will be plenty of tourists around, then you can take your day game almost anywhere. A simple walk around Mallory Square, on Roosevelt Blvd or Duval Street, will give you lots of opportunities to chat up sexy ladies strolling around. For the beaches, you'll have more luck on Smathers Beach since it sees a larger number of people.
Get more ladies in these areas:
Shopping malls
Duval Square Mall (1075 Duval St) – where there are locals picking up household goods and tourists looking for souvenirs for their trip.
Conch Plaza (N Roosevelt Blvd), with babes coming for the pedicure from the Nail Lounge, comfort soups at the Noodle House, all through to the Key West Mustards Gift Baskets.
Clinton Square Market (291 Front St) started out as a U.S. Navy coal depot but how is a bi-level shopping mall that handles heavy footfall
Parks and outdoor areas
Truman Waterfront Park (Southard St)
Bayview Park with its picnic areas (1320 Truman Ave)
Fort Zachary Taylor Beach area (601 Howard England Way)
Monroe County Parks & Beaches (3583 S Roosevelt Blvd)
MLK Community Pool & Community Center (300 Catherine St) – but not it closes for about an hour around noon
Landmarks and tourist attractions
Simonton Beach (Simonton St, Key West), especially during sunsets
Key West Aquarium (1 Whitehead St)
Key West Nightlife For Singles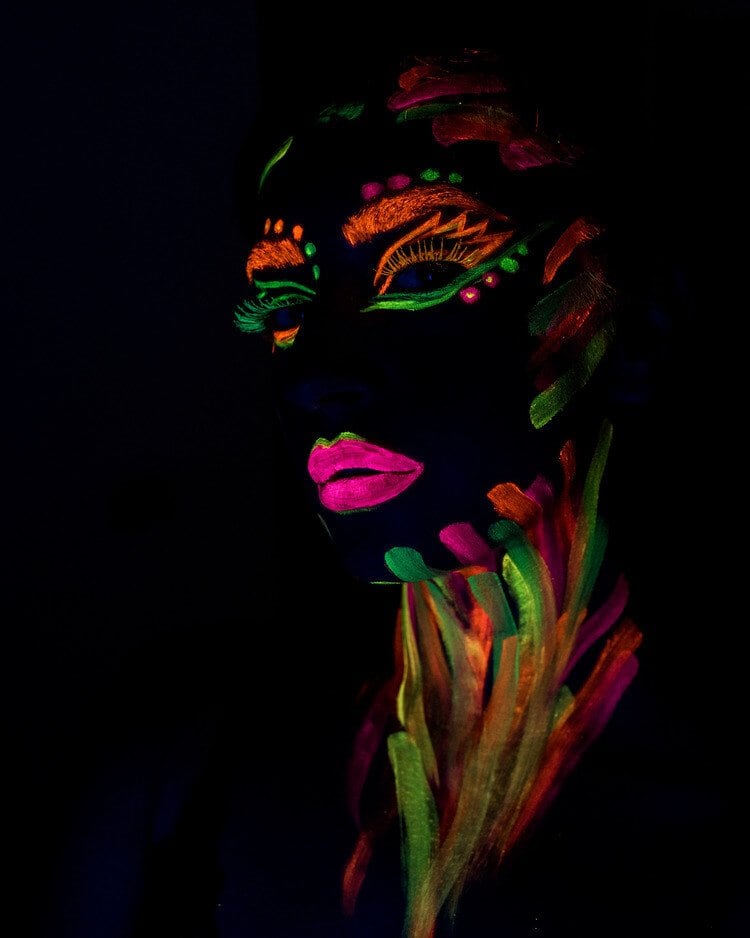 The area has a festive nightlife, from low-key watering holes to energy-packed nightclubs. With a mix of bars, live music venues, and even poolside parties with singles downing their cocktails and dancing the night away, you will be able to easily find a fun partner.
Best nightclubs for hooking up in Key West
You can kick off your night game at Duval Street in these spots:
Virgilio's (524 Duval St), where there'll be ladies after their drink specials, and it also features outdoor dancing
Aqua (711 Duval St) features drag queen shows – and it's advisable to make a reservation earlier since it gets filled up fast
To increase your chances of a successful hookup, get a hotel close to the nightlife spots. Key West girls may back out of the arrangement if they will need to travel long distances to get to your accommodation. Other areas include:
Sidebar Key West (504 Angela St)
Bare Assets (1029 Truman Ave)
Best hookup bars in Key West
Duval Street is also a favorite for this, quenching the thirst for strong drinks for both locals and tourists. This street is great for bar-hopping and also meeting the ladies strolling around under the night lights beam. Spots include:
Fat Tuesday (305 Duval St) offers frozen cocktails and has decent crowds.
Rick's Bar (202 Duval St) combines a lounge and dance club with entertaining music.
The poolside Sunset Tiki Bar (617 Front St) with sexy babes taking tropical cocktails.
Sloppy Joe's (201 Duval St) is almost a century old and remains a favorite for local babes.
Capt Tony's Saloon (428 Greene St), which holds festive theme nights.
Garden of Eden (224 Duval St) – clothing is optional here, making a magnet for nudists. No phones are allowed, though.
Durty Harry's (202-208 Duval St), which is an upstairs patio that has multiple bars, all with live music.
Green Parrot (601 Whitehead St) has been around since the late 19th century, making it a watering hole to find locals.
Irish Kevin's (211 Duval St), there, revelers hang out and enjoy live music.
The Bull (224 Duval St), with a chill atmosphere and windows opening up to the street.
Key West Hookup Sites
Speed up your success in the Key West dating pool by finding single women interested in hookups through these sites: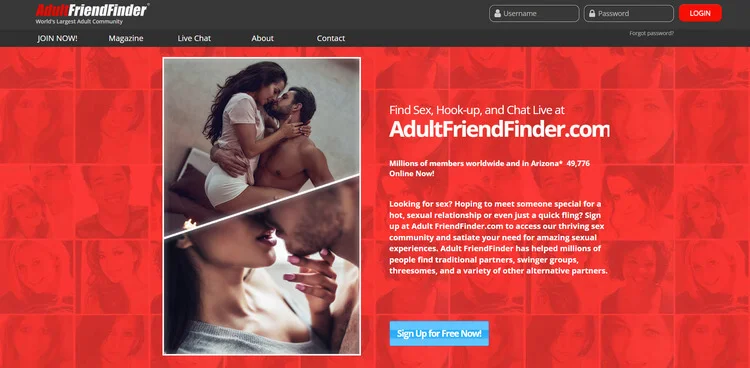 Here you have a dating app that has clocked over 80 million members, making it a goldmine for finding sexy single babes looking to hook up. You can find whichever kink or sexual adventure you're after here, using the search filters to narrow down your options to like-minded people.
With the 'Hot or Not?' feature, you can quickly swipe to find potential matches but to send direct messages or view full profiles, you will need to have paid membership. It does have a larger population of men than women – intensifying competition, and you'll need to watch out for bots and fake profiles.
iPhone users have an app they can download, while Android users will be limited to the mobile site.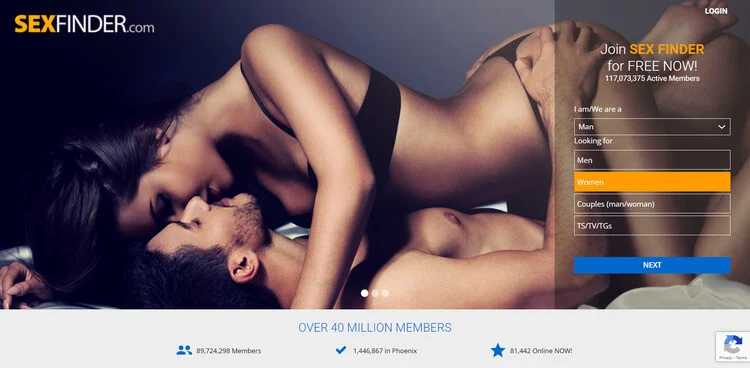 The platform brings together singles searching for casual hook-ups, couples looking for that extra thrill in the bedroom, swingers, and transgenders – they are all here, averaging 395,000 monthly visits. Serious long-term relationships are a myth in Sexfinder.
You get to browse through hundreds of Key West babe profiles with filters for kinks and fetishes. You can communicate through webcam streams, chatrooms, direct messages, and send a virtual gift to other members.
While you can read the messages you get in your inbox for free, you cannot respond without subscribing to one of the paid plans. Gold membership gives you access to advanced searches, the Sex academy, and also adding members to the Hotlist. The mobile app version is only available for iOS users.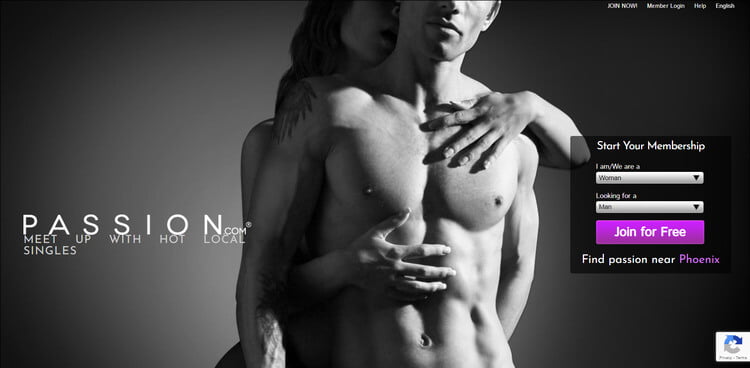 The site is flooded with women, outnumbering men 5:1, increasing your chances of getting laid in Key West. The US alone has 36 million member accounts, with the most voted-for members being featured in the "What's Hot" section. Signup just takes a few minutes, and you get to interact with users through instant messaging (with Gold membership), as well as live webcam and blogging, where you get to tell stories and comment on others – making it more personal instead of just seeing them as sex objects.
With a free account, you can see the profile summary, but for full profile viewing, you'll need a paid membership. Kink search allows you to narrow down your sexual preferences. No mobile app is available for either iOS or Android.
Key West Dating Guide
Here's where you can take your date and have a great time together:
Nice places to hang out with your date
Go on a romantic sunset cruise – plenty of boat tour companies offer it
Visit Higgs Memorial Beach Park (1000 Atlantic Blvd)
Day trip to Dry Tortugas National Park
Check out the Historic Key West Seaport
Take a stroll among hundreds of butterfly species and colorful birds at the Key West Butterfly Conservancy
Good restaurants and bars to take your date to
Louie's Backyard (700 Waddell Ave), with its ocean views and Caribbean-American cuisine
The Flaming Buoy Filet Co. (424 Eaton St) serves seafood and steak with a tropical ambiance
La Trattoria (524 Duval St) if you fancy Italian cuisine
The tucked-away Santiago's Bodega (7305, 207 Petronia St), which has a vintage vibe
Mary Ellen's Bar & Restaurant (420 Appelrouth Ln) that's both a sports bar and eatery, giving you a chill spot to get out of the sun and relax with your partner
What You Need to Know Before Dating a Woman from Key West, Florida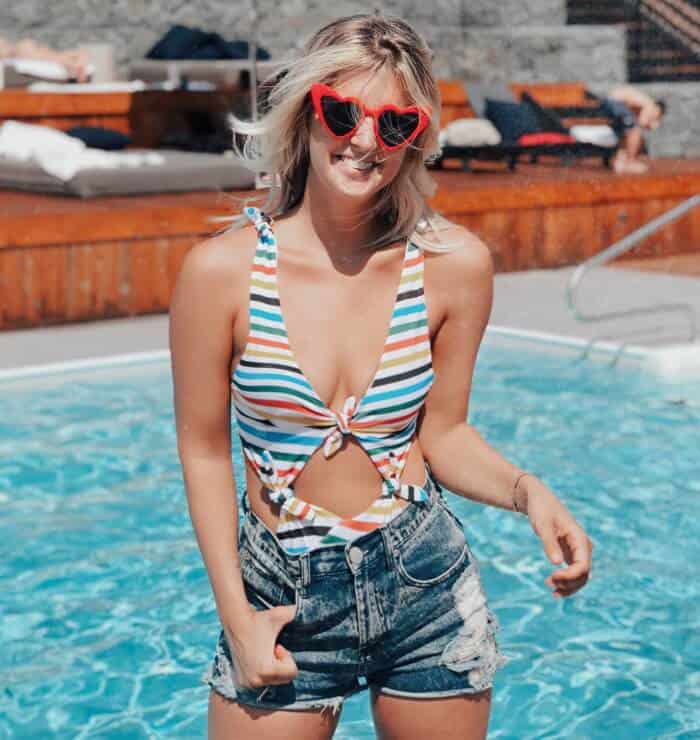 Yes, there are local Key West babes at the party joints and checking out the sights and sounds, but a huge proportion of the ladies here are on vacation. So, when that chemistry is going well, it may be just for the short duration of her visit
The dreaded verbal barrier
She's smoking hot – but only speaks fluent Spanish. That's another hit that comes when you're trying to pick up girls on an island packed with tourists. Of course, this won't be a problem if you're multilingual.
If you've got insecurities, they'll be put to the test
Warm weather means there'll be everything from half-naked studs on the beach to hunks paddling out on the waves – and your date's eyes WILL land on them. She's only human. And you'll also find your eyes wandering over all the babes in sexy beach bods…which brings us to the next point.
Everything will be thrown at you
Babes leaving behind their bikini tops, plastic boobs flaunted in all their glory, singles who are a solid 10 strutting around in little-to-no clothing – but don't forget you're on a date. As fabulous as the lady by your side is, she still recognizes competition all around, so make her feel comfortable to be around you, and don't go ogling after every sweet babe that strolls by.
Enjoy Dating Key West Women
Key West is a tourist haven for its culture, scenic spots, and beaches. While here, you will have a blast. Getting the right partner on your trip can make it even more memorable, and the information in this guide shows you where you can find sexy singles. The dating sites will make the process faster, so sign up to chat with women looking for a connection near you.
If you plan on spending more time in the Sunshine state then you will love to read our latest dating in Florida guide.